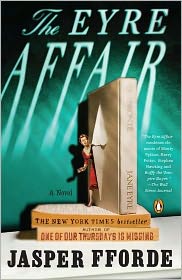 The Eyre Affair, Thursday Next Series #1
By Jasper Fforde
"A combination of fantasy, comedy, science fiction, Douglas Adams, Kurt Vonnegut, Lewis Carroll, Monty Python, and even 'Buffy the Vampire Slayer'." ~ The New York Times
Set in an alternate 1985, where to say literature would be a big deal is an understatement, Thursday Next is a special operative (SpecOps for short) for the London Literatecs. When a greek-style madman goes on the loose and starts messing with original manuscripts, it's up to Thursday to keeps the plots running straight. And when Jane Eyre is pulled straight from the pages of, well, Jane Eyre, things start to get dire.
Fforde's tale is chock full of literary puns and references, which make for an ultimately clever read, but I would have to say it's not for the casual reader. The avid reader, however, will eat it up. (Agent Stoker works for SpecOps 19 - guess what he does!)
The parallel universe is creative, both circumventing the conventions of traditional reality and giving Fforde the opportunity to play with history a bit. The characters are equally as interesting, and while they are engaging, sparkling personalities, they fall a bit flat. What are their histories? Their motivations? For a novel so chock full of intricate settings and intelligent plot, the questions are adequately covered: when the back cover closes, you don't feel like you're missing too much. You get the feeling, or the hope, maybe, that these characters will develop over the course of the succeeding novels.
And that, few readers, is where I am heading next, after a brief(?) respite into Gulliver's Travels, I will be making my way through Thursday Next #2, Lost in a Good Book.
Oh, and the shawl? It's bigger now.