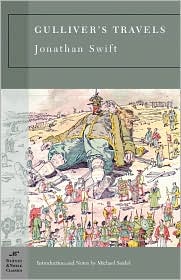 Up first tonight: Gulliver's Travels
I have to admit I did not finish this book. It is true that this is an older book, a classic really, and therefore the prose, vocabulary, and syntax is a bit antiquated. Imagine if I wrote this entire post like I did the last sentence. It was, frankly, exhausting.
I couldn't get more than a few pages read at a time, but I do want to return to the book some day. Synopses of the book mark it as the epitome of sarcasm for its time, rife with moral studies and parodies of famous characters. Without annotations (or a degree in European history), it is nigh impossible to recognize these historical figures amidst the fictional.
I want to give the Jack Black movie a go, but I would hate to embark on that adventure without having the classic under my belt. So, I will return. Sometime when I have more patience, and perhaps have wikipedia handy as well. Overall, 2.5/5.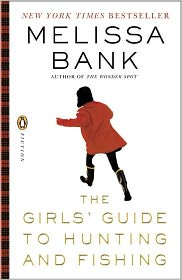 Next on the roster: The Girls Guide to Hunting and Fishing
One sentence of this book led me to snatch it off the $1 rack at our local half-price book store: Generous-hearted and wickedly insightful, The Girls' Guide to Hunting and Fishing maps the progress of Jane Rosenal as she sets out on a personal and spirited expedition through the perilous terrain of sex, love, and relationships, and the treacherous waters of the workplace.
The first few chapters/narratives played out beautifully, capturing Jane's teenage ideas on love, as well as those of her early and mid-late twenties. And I agree, the book up to this point was wickedly insightful, personal, and spirited (to mimic the review). I started to lose it around the middle of the book, though. There was a random chapter about another family who happen to live below Jane, and that story line comes in with a bang, incites your interest, then disappears. Then the perspective shifts to a second-person narration, than finally we're back with Jane, (though the second-person narrative is about her as well) which is where we finally come to the "hunting and fishing" reference.
As far as plot and all the story lines wrapping up, I was satisfied with the ending, though my personal preference would have been to allow the narratives and Banks's story telling to stand on its own, without mucking around in extraneous plot lines or shifts in perspective. Overall, 3/5.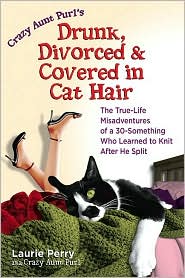 Finally, Crazy Aunt Purl's Drunk, Divorced & Covered in Cat Hair.
Perhaps I am a bit baised, as I, while not drunk, am in fact divorced and covered in cat hair on a regular basis. I will say that this book is a success because it is relatable and moving on both a wide scale and for a small niche audience.
Will knitting divorcees with cats find this book relatable? Absolutely. That being said, even if you're not the feline-lover, or someone who plays with sticks and strings, are you still going to find the book moving? I can't say for you, personally, but I think so. The book is well crafted, funny, touching, and is incredibly human.
Is it an epic landmark in literature? Probably not, but if you're going through a divorce, or know someone who is, this book just may well hit a chord, make you cry, make you laugh, and make you want to do something to better your life. Overall, 4.25/5.